This course provides the framework for students to understand the evidence-base both for their practice and the evidence base that can be generated from practice. The course teaches students the basics on research, methodologies and analysis. Students also get the chance to put that knowledge into practice through a research project. In addition students are taught the skills needed to discriminate between levels of evidence, and making judgments on resources trustworthiness and briefly explores key understandings from epidemiology, disease surveillance and biostatistics. The course also progresses to understanding methods of surveillance and quality insurance. Students' skills in reporting writing critique and understanding the influence of evidence on policy is further reinforced. At the end of the course, nursing students should be able to undertake research to collect data and evidence to support and drive nursing practice.
Basic Research Knowledge on Quantitative and Qualitative research approaches.

Fundamental Quantitative and Qualitative analysis skills.

Basic understanding of Research Ethics.

Administer simple research data collection and analysis.

Search for evidence via different sources.

Dissemination of Research findings to relevant and interested stakeholders/parties.

Appraise research studies as evidence.

Evaluating the quality of the various evidence sources.

Evaluate and improve the quality of nursing practice through research.

Understand the role of data and evidence in decision making and policy formation.
QSSN Year 3 Research Seminar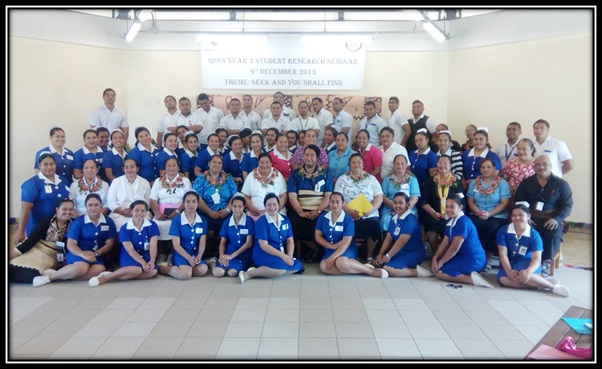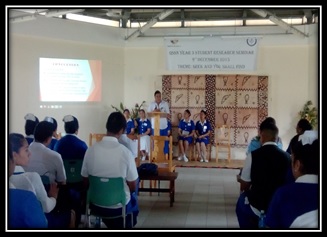 For the first time, the Queen Sālote Schoolof Nursing in collaboration with the Research Section (funded by the W.H.O) hosted their first-ever Research Seminar dedicated to how far the students have come in terms of their Research Projects. The Theme for 2015 was "Seek and You Shall Find" Mathew 7:7, which is linked to the underlying concept of Research – to investigate and identify. The students were able to present their research findings on the following topics:
Health Care Preferences for Sexual Transmitted infections clients.

The Impact of Extra-curricular Activities on Student Studies

Patient Knowledge on Nursing Practice here in Tonga.

Nurses as Role Models to Promoting Healthy Living

The Extent of Legality and Ethics in Nursing Practice.

Challenges that Queen Sālote School of Nursing faced within their Academic studies.
The Results of their preliminary Research was met with positive feedback and critique which provided the students with ample opportunities to showcase their skills in oral presentation and public speaking in a formal setting. We look forward to what the next consecutive years of the QSSN students will provide.