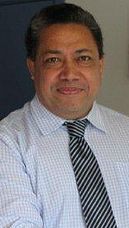 Dr Siale 'Akau'ola was appointed by His Majesty's Cabinet as the Director of Health for the Ministry of Health, on the 1st of May 2009.
He joined the Civil Service in January 1986 as a Medical Officer, after graduating in February 1984, with an MBBS degree, from the University of Papua New Guinea, followed by the completion of two years of pre-registration, practical training, as a resident medical officer. Dr 'Akau'ola received the Prizes for: best overall final year student; RACS' gold medal for top student in Surgery, and the prize for top student in Pediatrics, for the MBBS graduates of 1984. In 1995, he was awarded a Post Graduate Diploma in Clinical Pathology (DCP) with Credit, from the University of Otago, at New Zealand.
As an overseas medical trainee and an employee for the Ministry of Health, Dr 'Akau'ola held the following posts, at various times, in his career:
Resident Medical Officer (1984-85), at various hospitals at Papua New Guinea; Medical Officer in Surgery (1987-88) at Prince Wellington Ngu Hospital, Vava'u; Medical Officer in Surgery at Vaiola Hospital (1986 and 1989-1990); attachment as Medical Officer in Plastic and Reconstructive Surgery at Queen Elizabeth Hospital, at Adelaide, and Preston and Northcote Community Hospital (PANCH) at Melbourne, Australia (for 3 months in 1989); Medical Officer in Internal Medicine at Vaiola Hospital (1991-92); Pathology Registrar (1993-95), at Dunedin Hospital, New Zealand. From 1996 to 1997, he was the Special Grade Medical Officer in charge of laboratory services at the Ministry of Health, and promoted in 1998 to be the Senior Medical Officer in charge, at the same area. In 2004 he was again promoted to be the Medical Superintendent of Clinical Services, at Vaiola Hospital. He held this position up to April 2009, prior to his current appointment, as the Director of Health.
In the years: 1999, 2001, 2002 and 2004; Dr 'Akau'ola was employed by the World Health Organization, for short periods, as a Short Term Consultant, undertaking public health related activities in the areas of Vector Born Diseases, Typhoid Fever and Intestinal Parasitic Diseases, at various Pacific Island Countries and Territories. These countries included: Samoa, Vanuatu, Fiji, Kiribati, Tuvalu, FSM, Marshall Islands, French Polynesia, Cook Islands, American Samoa and the Solomon Islands. The report of the activities pertaining to the consultancy in Intestinal Parasitic Diseases was published in the International Journal of Environmental Health Research, in June 2004.
 
Dr 'Akau'ola has always been proactive in attending various in-service, short term training courses, in a wide range of fields; related to the responsibilities that he has overlooked, throughout the years. He has also held chairmanships of a number of committees at the Ministry of Health.
In July 2008, he was appointed by HM King George Tupou V, to be a "Member of the Order of Queen Salote", in recognition of his services to His Majesty's Government and the People of Tonga.